Freedom to Give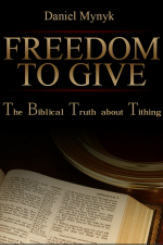 What is tithing?  Is it ten per cent of gross income due to the church?  Or was it only food from inside HOLY Israel in the Old Testament?
Is tithing for today?  Or are there better giving principles given to the church after Calvary with the Holy Spirit's blessings?
This book tackles both the biblical and theological idea of tithing throughout the ages.  Although it is exhaustive, the subject itself is exhaustive and cannot be honestly handled in a short study.
As long as the church reaches back into the Law to teach finances, the Reformation is not complete.  I recommend this book to both scholars and ordinary Bible students.
Russell Earl Kelly, PHD
Author of Should the Church Teach Tithing? A Theologian's Conclusions about a Taboo Doctrine
Purchase Freedom to Give from one of the following resellers!